Parrot mimics New Quay lifeboatman's pager alert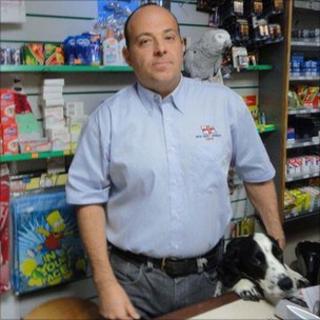 A lifeboatman is being given the runaround, after his pet parrot Billy learnt to mimic the sound of his emergency pager.
His owner, Joe Quayle of New Quay, says he cannot tell the difference between the real thing and Billy's 'pager'.
He said the only way he could tell if it was a really 'shout' was to check the pager.
The 10-year-old African grey, also wolf whistles, calls Joe's children and confuses the family dog Sweep.
"I have to keep the pager with me so I can check it if I hear it," said Mr Quayle who runs the post office and shop at Cross Inn near New Quay, Ceredigion.
"He is a very good mimic and I just can't tell the difference, and it has made me run a couple of times before I've realised," he added.
Mr Quayle said Billy also shouts for his children, Elouise and Alex, and gets the family dog Sweep to run up by whistling and calling him in his wife's voice.
Billy's other 'talent' of wolf whistling has nearly got Mr Quayle into trouble.
"He did it once when there was a customer looking into the fridge, with her back to me, and she swung round. I had to explain it was the parrot," he said.
Such is Billy's appetite for new sounds that when he once escaped he came back from three days at a local farm mooing like the cows in the dairy, Mr Quayle said.
"We won't get rid of him though because he is part of the family," he added.
"They live for a long time and he's the kid's inheritance," he said.