Ceredigion code breach councillor banned for 18 months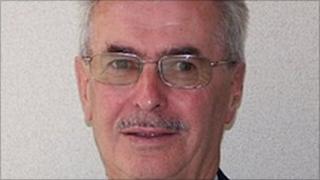 A Plaid Cymru councillor in Ceredigion has been disqualified from public office for 18 months for breaching the code of conduct for local authorities.
Moelfryn Maskell, who represented Ciliau Aeron ward, near Aberaeron, has also been banned from sitting on a community council.
A tribunal found that he failed to declare an interest in a planning matter on land adjacent to his own.
Mr Maskell said he did not use his position to gain an advantage.
The decision to disqualify Mr Maskell, who was accused of two breaches of the code of conduct, was made by the Adjudication Panel for Wales.
The panel, which held a three-day hearing near Cardigan, said: "The case tribunal found that by virtue of his ownership of land in the area, Councillor Maskell had a personal interest in a planning application for adjacent land, in the unitary development plan, the local development plan and road improvements to Heol Rhiwgoch.
"He did not declare such interest nor withdraw.
"The case tribunal found that by virtue of a dispute with a third party Councillor Maskell had a personal interest in that person's planning application. He failed to declare such interest and to withdraw."
'Unanimous decision'
It also found that Mr Maskell sent an e-mail to a planning officer in which he "sought to influence matters to do with the development of land in relation to the Aberaeron spatial plan".
This was intended to "influence matters to his advantage", said the panel.
It added: "The case tribunal decided by unanimous decision that Councillor Maskell should be disqualified for 18 months from being or becoming a member of Ceredigion County Council or of any other relevant authority within the meaning of the Local Government Act 2000, with effect from the date of this notice.
"Henfynyw Community Council, Ceredigion County Council and its standards committee are notified accordingly.
"The respondent has the right to seek the leave of the High Court to appeal the above decision."
Mr Maskell said: "I accept that it was ultimately my responsibility to ensure that I did not breach the code of conduct.
"I and those people close to me are absolutely sure that I did not or would not attempt to use my position as a councillor in order to gain an advantage for myself or to disadvantage others."
The leader of the Plaid Cymru group on Ceredigion council Ellen ap Gwynn said Mr Maskell would now resign.
She said the panel had "held a thorough hearing into complaints" and Mr Maskell "will now respect their verdict and resign as a Ceredigion county councillor".
"I wish Moelfryn Maskell well for the future and thank him for his work in many areas during his time as a county councillor."