Brecon market sale 'will protect Welsh mountain ponies'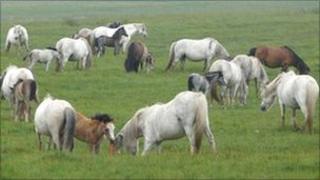 Up to 100 Welsh mountain ponies will go for sale at market in what organisers say will help strengthen the breed and manage numbers in mid and south Wales.
The foals will be auctioned at Brecon, Powys, later this month, with the Hill Pony Improvement Societies of Wales encouraging people to buy them.
Officials said it would protect the breed and weed out poorer quality animals.
They said it was possible that unsold ponies could be slaughtered.
Their low value has made it difficult for owners to afford the additional costs of a passport and now microchips, which are used to identify horses and trace their movements.
Over the next few weeks, hill pony breeders will round up around 100 foals for the sale on 23 October.
Breeders in 26 areas, including the Brecon Beacons, Blaenavon, the Black Mountain, Merthyr Tydfil and Llandeilo, have until 8 October to decide whether or not to take part on the sale.
'Excellent temperaments'
Rural Affairs Minister Elin Jones has agreed a system under European regulations to allow owners to move and sell specific groups of ponies without passports or microchips.
Colin Thomas, secretary of the Hill Pony Improvement Societies of Wales, said: "The ponies are a rare breed and this sale, which will be the first of its type in Wales, will protect the breed and weed out inferior ponies and consolidate the numbers.
"They make ideal children's ponies and have excellent temperaments, but those not sold could be slaughtered.
"That is not the sole purpose of the sale and we hope it will eventually help strengthen the breed."
Mr Thomas said Wales had about 800 Welsh mountain mares.
Ceri Bevan of the Brecon Beacons National Park Authority said the sale would go a long way to secure the future of the Welsh mountain pony.
"These are wonderfully hardy little ponies and although they are untamed at the moment many go on to make ideal companions or children's ponies due to their kind temperament and trustworthy nature."