Plea over 1958 Welsh world hitchhiker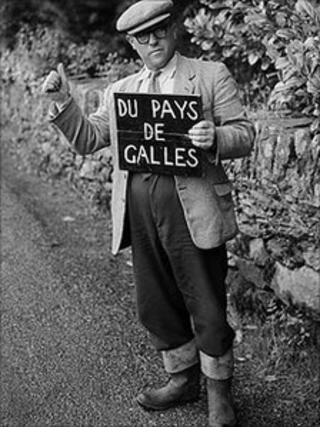 An appeal has been launched for information about a man who left a Gwynedd village more than 50 years ago to hitchhike around the world.
Islwyn Roberts, from Llanbedr, near Harlech, left home on his epic voyage in 1958, but little is known of what became of him.
The National Library of Wales, Aberystwyth, wants information about him for an exhibition on travel.
He carried a sign with him with Pays de Galles (Wales in French) on it.
The national library in Aberystwyth is appealing for friends or relations of Mr Roberts to make contact, and it is also asking for postcards, photographs or recordings of his travels.
The information will be used in an exhibition called Small World - Travel in Wales and Beyond, which opens on 16 October and runs until next April.
"The photograph of Islwyn Roberts is one lovely one of a person from the Welsh countryside who decided to pack his bag and see the world," said Carys Mai Lloyd, curator of the exhibition.
"It was a world which was very different from ours today. It was at the height of the Cold War and the growth of nationalism in Africa and Asia.
"He would surely not have been able to travel to many countries such as the former Soviet states and to fly by plane would have cost a fortune."
Among the other items on display will be ancient maps by Humphrey Lhuyd and John Speed, diaries of the sea voyage to Patagonia, railway posters, letters by Edwards Peet who emigrated to Ohio in 1868, as well as photographs by Geoff Charles and John Thomas.
To coincide with the exhibition, travel writers Jan Morris, Bethan Gwanas and Mike Parker will appear at the library.