Fortnightly bin scheme to start in Ceredigion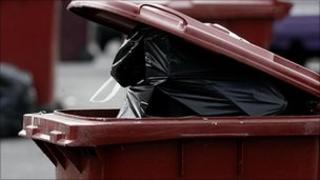 Weekly refuse collections in Ceredigion are to be replaced by a fortnightly scheme from next month.
Ceredigion council said the scheme was being brought in across the county after an 18-month trial in Aberystwyth.
Household waste will be collected every two weeks, while food and recycling will be taken away every week.
The changes come into force on 15 November. The council said it was responding to Welsh Assembly Government waste targets.
Local authorities breaching them can be fined, and officials in Ceredigion said that could be as much as £1.4m by 2020 if changes were not made.
'Strict targets'
Between June and April this year, Ceredigion had the highest recycling rate (34%) in Wales.
But it is estimated that landfill sites used by the council could be full within the next 12 to 15 years.
A council spokesman said: "The Welsh Assembly Government has set strict targets for local authorities as part of its achieving zero waste strategy.
"The strategy requires Wales to achieve a significant reduction of waste by 2025 and demands that any waste that is produced should be managed in a way that makes the most of Wales' valuable resources.
"Following the publication of these targets, the Welsh Assembly Government, by the year 2050, wants to see 65% less waste than the current levels going to landfill.
"In future years, a sliding scale of fines will apply that could potentially see Ceredigion having to pay some £1.4m a year by 2020, should targets not be met. That could potentially mean a significant increase in the cost to council tax payers."