Plans for Aberystwyth shopping centre revived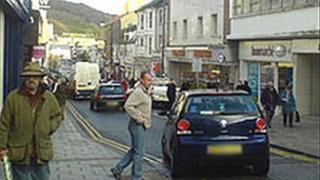 Fresh plans for a multi million-pound shopping centre in Aberystwyth are being drawn up a year after the original project ran into problems.
The centre is earmarked for a former Post Office sorting site, but there was concern last year that a number of nearby shops could be swallowed up.
The project looked to have floundered when the Welsh Assembly Government refused to help fund it.
But the revised plans are supported by the town's chamber of commerce.
The original proposals centred on developing the Post Office sorting site in Chalybeate Street, but the developers were accused of running into difficulties when they expanded the development to include some neighbouring shops.
This met with strong opposition from some shopkeepers and residents, who claimed it would be devastating for the seaside town.
Tensions between developers and objectors reached a climax last year when Ceredigion council agreed to use compulsory purchase order powers as a last resort, to help the project proceed.
The project, which is part of a major scheme outlining the shape of Aberystwyth for the next 20 years, then looked to have been delivered a major blow when the assembly government refused a grant.
But Meirion Jones, of joint developers Merlin Homes, said after the assembly government announcement that the "door was still open" for a smaller scheme.
Of the new plans, Mr Jones said: "I went to meet the chamber of commerce because I wanted to give this plan one last chance.
"We have 35,000 sq ft of space, in the sorting office, and we don't need to compulsory purchase any shops.
Multi-storey car park
"The compulsory purchase order was only ever talked about in principle, and shops in Chalybeate Street were never in any scheme.
"The big companies we've been speaking to want shop fronts in Great Darkgate Street (the main shopping street)."
Mr Jones added that there were plans for a multi-storey car park in nearby Mill Street, but he claimed it would be "absolutely no use" without the shopping centre.
Aberystwyth Chamber of Commerce chair Cyril Baker said Mr Jones had come up with some new proposals.
He added: "The chamber of commerce supported the idea of the development from the start, but then the boundary was extended to include some nearby shops. We think this part wasn't handled very well.
"It (the sorting office) is the last bit of the town centre to offer a site of any decent size. It is big enough to regenerate the town centre."