Flood protection to help wildlife at Ynys Hir reserve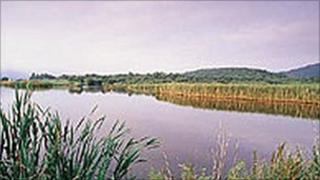 A project to protect a railway from flooding will re-create a "nationally important" wildlife habitat lost more than 50 years ago, it is claimed.
The Environment Agency is improving the flood defence alongside the RSPB's Ynys Hir Nature Reserve, near Machynlleth.
But it also plans to make holes in two older defences which will enable sea water from the Dyfi estuary to pass through during high spring tides.
This will create nearly 15 acres (six hectares) of salt marsh.
Dave Thorpe, of Environment Agency Wales, said salt marsh was a "nationally important and valuable wildlife habitat" supporting unique plant species, insects and juvenile fish, as well as birds.
The marsh was lost more than 50 years ago when the original flood banks were built.
Ynys Hir has other areas of salt marsh and is also home to wet grassland and woodland - part of which is said to date back to the 17th Century.
Mr Thorpe added: "As far as we're aware this project is the first of its kind in Wales to combine salt marsh creation with improved flood protection.
"The new flood bank will be wider, taller and more robust than the historic banks and will be inspected on an annual basis to ensure it is operating as normal.
"We also want to reinstate the salt marsh as it's a valuable wildlife habitat and will provide a natural flood defence for the land behind it. This process of reinstating salt marsh behind old defences is called managed retreat.
"It has been widely used elsewhere in the UK to provide more sustainable defences that also support valuable habitats for wildlife."
The Environment Agency said it was working closely with the RSPB and others over its £20,000 project, which is expected to be completed at the end of the year.