Newtown bypass route is revealed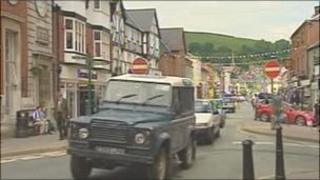 The preferred route for a bypass, which is expected to ease a Powys town's traffic problems, has been unveiled.
The assembly government has chosen a route which will pass south of Newtown's Mochdre Industrial Estate and beneath the Cambrian railway.
Local politicians who have been campaigning for road improvements have welcomed the announcement.
Work is expected to start on the road in 2014.
Deputy First Minister and Transport Minister Ieuan Wyn Jones said the bypass would improve journey times and boost the town's economy.
He added: "I am delighted to make this announcement as these improvements will provide some much needed relief to the residents and businesses of Newtown.
"This new bypass will not only improve journey time and reduce accidents, but will also help further the economic development of the town.
"It's also worth remembering that Newtown is situated on the very important north to south and east to west corridors of the A483 and A489 so this bypass is also of vital importance to the whole of Wales."
In addition to the bypass, Mr Jones has announced a package of improvements to tackle traffic congestion in the town.
Drivers have long faced tailbacks in Newtown, but there are complaints problems have grown since traffic lights replaced a roundabout near a new Tesco supermarket.
Last month mayor Joy Jones claimed shoppers were "deserting" the town because of "major traffic problems".
Earliest start date
Politicians have also held meetings with local businesses, and a survey revealed some were considering moving out of the town.
Montgomeryshire AM Mick Bates said: "I am absolutely thrilled for the people of Newtown that the government has at long last made a decision on the Newtown bypass.
"The route chosen is the most sensible one and it is crucial now that preparation work gets underway immediately and contractors are appointed, to allow the earliest start date possible."
Newtown county councillor Russell George welcomed the announcement of the route, but said there was no start date for the work.
He said: "We must not forget that a planned bypass route for Newtown has a 40-year history including a protected route dating back to the 1970s."
The assembly government said as part of the next phase of the project it would appoint consultants and a contractor to undertake various surveys, including an environmental impact assessment.