Dyfed-Powys Police trace owner of stolen WWI medal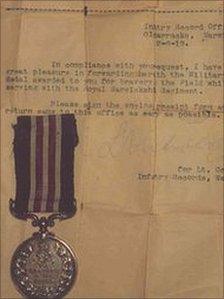 The owner of a stolen World War I medal which was recovered has come forward after a police appeal.
The Military Medal, presented to non-commissioned soldiers for bravery until 1993, was awarded to an I.W. Grinter from Roath Road in Cardiff.
The battle honour was recovered with accompanying paperwork dated 2 June, 1919, revealing that Mr Grinter served with the Royal Warwickshire Regiment.
The medal was discovered following an arrest by Dyfed-Powys Police in Powys.
A police spokesman said the owner from Cardiff had come forward, but it is unclear at the moment whether the person is a medal collector or a relation.
Dyfed-Powys Police said someone had been arrested on suspicion of stealing the medal and other items during burglaries in south Powys.
The Military Medal was introduced in 1916 during WWI, but following a review in 1993 it was discontinued and replaced by the Military Cross which has been in existence since 1914.
Related Internet Links
The BBC is not responsible for the content of external sites.