Library inundated after plea over 1958 world hitchhiker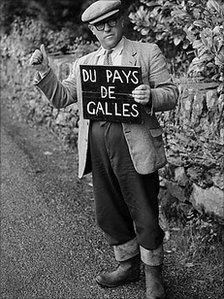 The National Library of Wales has been inundated with information after an appeal about a Gwynedd man who left home to hitch-hike across the world.
Islwyn Roberts, from Llanbedr, near Harlech, left in 1958, but little was known of what became of him.
The library, which is staging a travel exhibition in Aberystwyth, said people from South America who remembered Mr Roberts had been in touch.
It has emerged he returned from his trip and died in 1993, aged 79.
Exhibition curator Carys Mai Lloyd said she had been "inundated" with information after launching the appeal about Mr Roberts last week.
Mr Roberts's family and friends, and even people he had met on his travels, contacted her.
The information she has received paints a picture of an eccentric character, who in his later years recounted tales of his epic voyage to locals, while sitting on a bench in his village.
It appears he caught the travel bug after hearing how two soldiers had been challenged to see how far they could get around the world with just a few pounds in their pockets.
Ms Lloyd said Mr Roberts attempted the same thing in 1949 and managed to reach Algeria on just £6.
He returned home, but set off again in 1958 and spent at least a year overseas.
"He visited Egypt, South Africa, Patagonia (in South America) and Canada, where he spent six months," said Ms Lloyd.
"In Canada he worked at a bowling alley and at an army camp as a cleaner and a cook. We even received information from a handful of people in Patagonia who remember him."
Mr Roberts carried a sign during his 1958 trip which read Du Pays de Galles (From Wales in French), but Ms Lloyd said he also had a red dragon with the words "Taffy from Wales" written on it.
He served in the Royal Navy in World War II, and as a result of a wartime incident was partially deaf.
Ms Lloyd added: "Islwyn Roberts died in June 1993. He was not married and did not have any children.
"He used to sit on a bench in Llanbedr every day, and he would read stories about his travels to local people, especially children.
"A plaque has been placed near the bench with Islwyn's favourite phrase on it - 'Never cut a friend.'"
Details about Mr Roberts will be used in an exhibition called Small World - Travel in Wales and Beyond, which opens on Saturday and runs until next April.
The national library has invited two of Mr Roberts's neices to the exhibition, along with others who have contacted Ms Lloyd with information about him.
Related Internet Links
The BBC is not responsible for the content of external sites.