No-alcohol plan for Aberystwyth beaches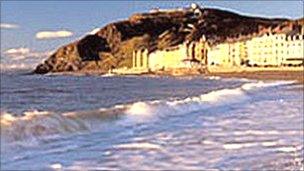 Controls on drinking in public in Aberystwyth could be extended to include the town's beaches under plans being considered by Dyfed-Powys Police.
The town centre drink-free zone was introduced in 2005 and has given police the power to confiscate alcohol in bottles and glasses on the streets.
It has helped to reduce alcohol-related crime, and was praised by the Home Office in 2007.
Dyfed-Powys Police confirmed it was considering extending the alcohol zone.
The zone makes it an offence to drink when asked by an authorised person to stop, or to refuse to hand over alcohol.
The police can arrest those who fail to comply.
A Dyfed-Powys Police spokeswoman said: "In a recent night-time economy meeting (by the crime safety partnership) a proposal was made to extend the alcohol-free zone to include the beaches, and members were asked to consider this.
"If a decision is made to go ahead with this proposal, there will be a legal process to go through before it can be implemented, as was done before the current alcohol-free zone was launched."
The alcohol zone in Aberystwyth was introduced to deal with homeless drunks and vagrants who congregated in certain areas of the seaside town, and in response to a sharp rise in violent crime between 2003-04.
By 2006, a year after its implementation, figures showed that violent crime had dropped by 18%, with much of that drink-related.
The following year, Aberystwyth's alcohol zone was highlighted as part of the Home Office's Not In My Neighbourhood week, and was praised for its good work.
Related Internet Links
The BBC is not responsible for the content of external sites.