Private Powys GP year ban for 'inappropriate treatment'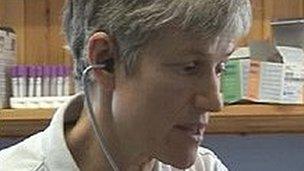 A GP has been suspended from practising medicine for a year by the General Medical Council (GMC).
Dr Sarah Myhill, 52, who has a private practice near Knighton, Powys had claimed she was a "pioneer" in the treatment of chronic fatigue syndrome.
The GMC imposed an interim ban while it investigates her claims, but it said Dr Myhill might pose a "risk to patients".
Dr Myhill said there was "no proper evidence" of any patient being harmed or put at risk by her actions.
She was banned from prescribing drugs for 18 months by the GMC in April, and told to take down part of her website.
The ban came after a group of GPs from Yorkshire claimed she had provided "inappropriate" treatment to a patient in June 2009.
Dr Myhill recommended vitamin and magnesium injections for suspected chronic fatigue syndrome, a treatment an expert said had "no clinical or biochemical basis".
Stuart Jones, a senior clinical scientist at Queen's Hospital in Romford, Essex, also raised concerns about advice on the doctor's website concerning breast cancer screening and child vaccinations.
The website discouraged women from using the oral contraceptive pill, recommended an alternative method of breast cancer screening and restated the link between the measles, mumps and rubella jab and autism, which has now been discredited.
The latest GMC hearing heard that there were "repeated and significant concerns raised by former patients, medical practitioners and other members of the public".
GMC panel chair Dr Peter Maguire said: "The circumstances which bring patients to your practice by their very nature make your patients vulnerable, notwithstanding any actual health issues.
"The panel is satisfied that, based on the complaints made, and the concerns raised, there is sufficient information before it to indicate that there may be impairment of your fitness to practise and that such impairment may pose a real risk to patients.
'The panel has been extremely concerned by your possible lack of understanding of the requirements of modern day best practice, as well as a seeming lack of perception and understanding of the consequences of your actions."
Dr Myhill tried to challenge the interim conditions at the review hearing, which was held in public at her request.
It was attended by around a dozen of her supporters.
The hearing also heard that the GMC had received further complaints since April's ruling.
They included a suggestion that Dr Myhill had attempted to exploit a loophole in a requirement she take down information on her website by posting a link to an "ungagged" version of the site.
Dr Myhill said she could not be held responsible if other people had chosen to copy her website.
Her 12-month interim order will be reviewed within three months.
Following the GMC hearing in London, a statement issued on behalf of Dr Myhill said: "The GMC has constructed no actual allegations against her.
"The IOP (interims order panel of the GMC) hearing she faced did not concern themselves with issues of fact or the veracity of evidence.
"There is no proper evidence of any patient being harmed or put at risk of harm by her actions or advice. Indeed, there is a vast weight of evidence from patients who have substantially benefited from her practice.
"The GMC has received thousands of letters from patients testifying to her abilities as a good and caring doctor."
Related Internet Links
The BBC is not responsible for the content of external sites.