Merseyside father drowned saving girl in Powys river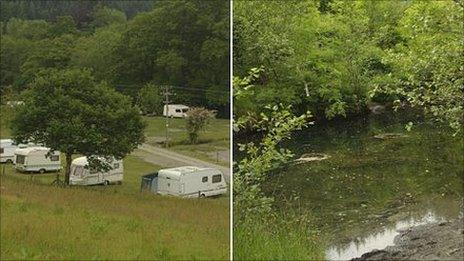 A former county swimmer drowned after saving his six-year-old daughter from a river in Powys, an inquest heard.
Philip Jack, 45, from Birkenhead, Merseyside, dived in after she fell trying to get the family's dog out the River Dulas near Machynlleth.
The father-of-two, described as a "smashing swimmer", got into trouble after passing her to people on the bank.
Coroner Peter Maddox recorded a verdict of accidental death.
Mr Jack, an electrician, was on a short holiday at a campsite by the river at Pantperthog, near Machynlleth, to give the girl's heavily pregnant mother a weekend's respite.
The inquest in Welshpool heard from Mr Jack's friend Michael Kealey, who was at the scene.
Mr Kealey's statement read: "Suddenly there was a loud cry from the riverside. About 20 to 40 seconds passed when I stood up and went towards the river.
"When I got there, Phil was in the river and was struggling to hold (his daughter) up with his arms."
Mr Kealey described Mr Jack being in a vertical position in the water, not in a horizontal "swimming position".
He tried to shout to his friend to ask if he was OK, but there was no reply.
Mr Kealey said he felt he could not go into the water himself because he knew it was deep and dangerous.
He saw his friend's head sink beneath the surface before another man retrieved him, but Mr Jack appeared to be unconscious.
Mr Kealey added that Mr Jack had wasted all his energy in holding his daughter up, and "there was no strength left".
Another witness, Paul Burrell, described how he had been playing cricket near the scene when he heard shouting and went to help.
He said: "They passed the girl to me. I remember her breathing was slow and I asked if she was OK and she acknowledged me."
Mr Burrell then described the conditions in the water as he helped find Mr Jack: "The water was cold," he said.
"I'm 6ft tall and I was at full stretch. It must have been over 8ft deep when I began to haul him back to the bank.
"He was unconscious and not breathing."
The coroner said a postmortem examination found the cause of Mr Jack's death was drowning.
No-one from Mr Jack's family were at the 10-minute inquest, but his father, David, released a statement shortly after his death.
He said: "He was a terrific lad - and a mate as well.
"He was always at the match with Everton. He loved those kids. He took them everywhere on holiday.
"He took them away for the weekend with a mate of his."
He said he could not understand how his son died because "he was such a good swimmer."
He added: "He was a smashing swimmer - something must have happened."
Related Internet Links
The BBC is not responsible for the content of external sites.