Wales misses wind farm energy target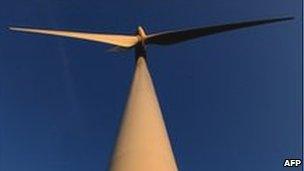 Wales has missed a target to make electricity from wind turbines.
The Welsh Assembly Government announced in 2005 that four terawatt hours of power would come from renewable energy by 2010, but it has produced three.
Officials said most of the elements that were key to meeting the target were outside their direct control.
Wind farm objectors said the push to develop onshore wind was "in a tangle," but the assembly government said it was set to exceed its 2020 energy plans.
In 2005, Carwyn Jones - then the environment minister, now the first minister - unveiled seven areas across mid and south Wales, known as TAN 8, which had been chosen for the development of wind farms.
TAN 8 was part of the UK Government's energy policy to increase the amount of electricity from renewable sources to 10% by 2010, but Wales has exceeded this and produces about 13%.
The assembly government set out to deliver four terawatt hours per year of electricity by the end of 2010 and seven terawatt hours by 2020.
At the time, opposition parties accused the assembly government of concentrating too much on wind energy and neglecting other forms of renewable energy, such as solar and hydro power.
Five years on, the assembly government said Wales produced in excess of three terawatt hours of electricity from renewable sources.
A spokeswoman added: "Whilst we have not met the 2010 target, there is an additional five terawatt hours of electricity either in the planning system, consented or under construction, that would allow us to significantly exceed it.
"This means we are on course to significantly exceed our previous 2020 target of producing seven terawatt hours of renewable electricity annually by 2020.
"Unfortunately, most of the elements that are key to us meeting the target are outside our direct control."
The assembly government said these included planning consent, which for projects above 50 megawatts was the responsibility of Energy and Climate Change Secretary Chris Huhne.
It added that developer investment and wider energy market conditions had also played a role, along with the national energy transmission network, market capacity and European Union regulation and legislation.
The Campaign for the Protection of Rural Wales (CPRW), which opposes the assembly government's strategy, called for TAN 8 to be scrapped.
CPRW director Peter Ogden said the assembly government had grabbed the "cheapest and most convenient ways of satisfying their own pangs of renewable energy guilt, without having any regard to the bitter after taste these massive intrusions leave on the Welsh uplands".
He added: "Their track record clearly indicates that their push to develop onshore wind was badly organised, misdirected and has ended up in such a tangle that it proves just how wrong the TAN 8 approach has been.
"We have constantly argued against the industrial-scale mutilation of the uplands of Wales and are calling on all the political parties to scrap TAN 8."
He added that officials claimed to be on target for 2020, but there were no transmissions lines in parts of Wales to get the power to the National Grid, and this seemed to have been "conveniently overlooked".
Related Internet Links
The BBC is not responsible for the content of external sites.