Drivers talk to Rhayader pupils to avoid speeding fine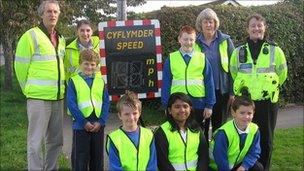 Eighteen motorists caught speeding outside a Powys school avoid a fine by choosing to explain to pupils why they were breaking the law.
Pupils from Rhayader primary school joined police and Powys council's road safety unit to carry out a survey.
Seven drivers were stopped for not wearing a seatbelt, and they also opted to give the children an explanation.
Earlier this month, pupils in Llanelli posed as road crash victims for posters highlighting speeding outside schools.
In Powys, the survey was carried out to stop motorists breaking the speed limit outside Rhayader primary school.
'Devastating consequences'
Drivers were given the choice of paying a £60 fixed penalty or telling the children why they were breaking the law outside their school.
Councillor Geraint Hopkins, who is responsible for road safety, said: "Inappropriate speed is one of the biggest causes of collisions and a child's chance of being killed increases significantly if motorists are driving faster than 30mph.
"Speed limits are there for a reason and breaking these limits, especially so close to a school, is unacceptable and can have devastating consequences.
"I'm sure that those people who were stopped will always remember the event and will endeavour to alter the way they drive in the future.
Councillor Kelvyn Curry, county councillor for Rhayader and a member of Dyfed-Powys Police Authority, said the survey "raised awareness of the dangers of speeding in the town among both motorists and pupils".
Related Internet Links
The BBC is not responsible for the content of external sites.