Welshpool council drops plan to gas rabbits on pitch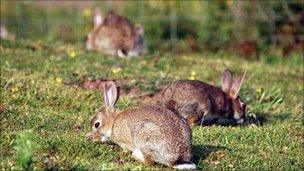 A town council has voted against plans to gas thousands of rabbits being blamed for damaging sports pitches.
Welshpool said it had tried to combat the problem at Maesydre playing fields, but the population was out of control.
Councillors met on Wednesday evening to vote on whether to gas the animals or spread a garlic repellent on the land.
The council said it would instead employ a professional company to tackle the problem and would ask Powys council to also take action on adjoining land.
It said it would also use rabbit repellents in the affected areas.
Town council clerk Robert Robinson said before the meeting that the animals left divots and holes on sports pitches at Maesydre, which are home to rugby, cricket, bowls and football clubs.
He said councillors had tried to control the rabbit problem, but it had steadily grown during the past few years and he estimated that thousands now called Maesydre home.
He said beforehand: "There are a number of holes and the the problem is at epidemic levels. The groundsman there says it is a major problem.
"A few years ago we used a pest control man with a ferret to try and control the numbers, but it is out of control.
"We've already had a couple of football players suffer broken ankles, so we have to balance animal welfare with the welfare of people playing sport."
Donna Thomas of animal rights group Animal Aid said before the vote: "Gassing is expensive, inhumane and dangerous not just for animals but for other animals.
"It's wrong to remove an entire species from the area and killing the rabbits for the upkeep of human pleasure is not ethically sound.
"People need to rethink their attitude towards animals. It's regrettable that people have been injured, but perhaps the humans should move rather than the animals.
"Removing the rabbits will have a big knock-on effect for the eco-system."
David Proctor, secretary of Waterloo Rovers Football Club, who play in the Spar Mid Wales League, said: "Last season one of our players broke his ankle, and he has just returned from injury, and at the beginning of this season another player damaged his ankle ligaments and will be out until Christmas.
"Both injuries were as a result of rabbit holes. We try to fill them in before every match, but there are so many that some are missed.
"Something needs to be done, but how it's done is a matter for the council. It has got out of hand."
Related Internet Links
The BBC is not responsible for the content of external sites.