Dyfed-Powys Police helicopter 'to be scrapped'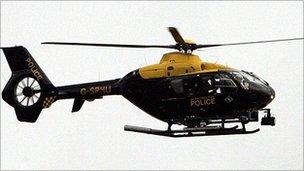 The Dyfed-Powys Police helicopter will be scrapped if a scheme to cut costs is given the go-ahead.
The Association of Chief Police Officers (ACPO) is proposing a National Police Air Service that they say will save £15m a year.
Under the plan, police helicopters and air bases will be cut by a third across England and Wales.
Dyfed-Powys Police said the proposal was at an early stage and would have to be approved by the police authority.
It is not yet clear what, if anything, would change with the North Wales Police and the joint South Wales Police and Gwent Police helicopters.
There are currently 30 police air bases in England and Wales that serve 33 aircraft, costing forces £66m a year.
Under ACPO's plans this will be cut to 20 bases serving 23 aircraft, and reduce the air support budget by £15m.
ACPO suggests that rather than each force having its own helicopter patrolling its region, the new national service will be responsible for the whole of England and Wales and be operated from a central command centre.
There will also be a clear "user requirement" laid out, meaning cost-intensive flights will be approved only if they are necessary.
But the plans to scrap the Dyfed-Powys Police helicopter has been met with criticism.
Plaid Cymru Carmarthen East and Dinefwr AM Rhodri Glyn Thomas said: "In such a rural area like Carmarthenshire, very often getting to emergency calls can not be done quick enough by road. That is why a helicopter service is so important.
"Dyfed-Powys Police do a fantastic job for the area but it is difficult to expect them to continue that with their hands being tied by these drastic cuts by the Conservative - Lib Dem coalition in Westminster.
"I am deeply concerned that the loss of this vital provision could just be the start of things to come."
Dyfed-Powys Police said the plan would have to be approved by the force's police authority.
A spokeswoman added: "As outlined in the ACPO press release a proposal has been announced as part of a National Police Air Service to withdraw the Dyfed-Powys Police aircraft from service with provision continuing from other bases in the area.
"But this proposal is at an early stage and the matter has not been discussed in depth as yet.
"Some initial representations have been made at a national level which outline some concerns in relation to the proposal but discussions in greater detail need to take place to consider the implications for Dyfed-Powys Police and the Welsh region."
Conservative Carmarthen West and South Pembrokeshire AM Angela Burns said it was important for all public sector organisations to seek to "work collaboratively" to maximise the investment they received from the public purse.
She added: "The concept of a National Police Air Service seems sound providing, and I emphasise the word providing, that centralisation of the management and deployment of air cover doesn't translate into a lack of frontline cover for west Wales."
Related Internet Links
The BBC is not responsible for the content of external sites.