Cycle museum 'stalwart' in Llandrindod Wells to retire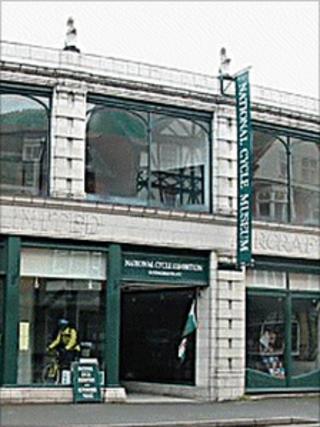 As the curator of the UK's bicycle museum, David Higman has an unexpected stance on two-wheeled transport.
"I'm not a cyclist," says the man who has been head of the National Cycle Collection since 1997.
"In fact, I hated it as a child, and I'm not interested in cycle racing," he admits.
He is, however, retiring at 70 with warm tributes for his "huge passion for bicycles" during his work at the museum in Llandrindod Wells, Powys.
Mr Higman, from Oswestry, Shropshire, was awarded an MBE for services to tourism in 2006 and steps down on Friday.
The National Cycle Collection is made up of three bicycle collections, and opened at the Automobile Palace in Llandrindod Wells in 1997.
Since then, Mr Higman has made the 110 mile (177km) round trip every day from his home in Oswestry, and has worked as an unpaid volunteer for up to 80 hours a week.
Not only that, but his own private collection of 100 bicycles helps make up the museum's 250 exhibits, which are enjoyed by 6,000 visitors a year.
Despite his long days, he said he was sorry to leave.
'Pangs of regret'
"I've enjoyed my time here. I can't walk away without pangs of regret and the trust [which runs the museum] wants me to stay on," said Mr Higman.
"But I travel 110 miles a day and work about 80 hours a week and I just think it's time to retire."
Mr Higman said he started his cycle collection "by accident" 22 years ago after buying some bicycles from a trader in Liverpool.
But he confessed he was not a cyclist and joked he hated it as a child.
"I'm not a cyclist, in fact I hated it has a child, and I'm not interested in cycle racing," he added.
"My parents bought me a Raleigh bike for Christmas when I was eight. We lived in Cornwall and my job on Saturdays was to ride to the shops, but the journey was up and down hills and I hated it. That put me off cycling and I couldn't wait to own a car."
Mr Higman said the National Cycle Collection was valued at up to £500,000 and featured bikes dating back to the 19th Century, Chris Boardman's training bicycle from the 1992 Olympics and a number of exhibitions about cycle racing greats.
Brecon and Radnorshire AM and Welsh Liberal Democrat leader Kirsty Williams said: "David is of tremendous character, with a huge passion for bicycles and a real desire to contribute to the economy of the town and mid Wales in general.
"The collection he has put together is a triumph. He has worked tirelessly at the museum and I wish him well in retirement."
Llandrindod Wells deputy mayor Trish Hill described the cycle collection as "absolutely outstanding".
She said: "He has been a stalwart of the community. He is always available and nothing is too much trouble. We are sorry to see him leave."