Welsh copper industry used slaves after abolition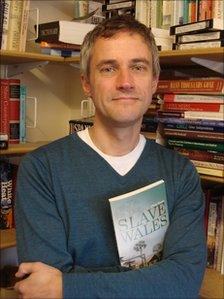 A new book has claimed Wales played a significant role in the slave trade.
Professor Chris Evans of the University of Glamorgan is launching "Slave Wales" on Friday as part of Brecon Arts Week. 
The book reveals Wales' links to slavery right through to the mid-18th Century and long after abolition.
Prof Evans will also respond to controversy surrounding a new plaque in Brecon - a tribute to Captain Thomas Phillips, who was a slave trader.
Slave Wales is a new take on Welsh history. It charts the Welsh connection to slavery from 1660 to 1850, and was born out of Dr Evans' involvement in a 2007 BBC Wales programme to commemorate the bi-centenary of the abolition of slavery.
Two products link Wales to slavery - copper and wool, both of which were highly sought after in the 18th Century.
"If we think of Welsh woollens, we think of this as something domestic, comforting and traditional", said Prof Evans.
"But Welsh woollens in the 18th Century meant something very different indeed. Lots of people in mid Wales, who were very poor, tried to escape their poverty by producing woollen cloth.
"They may not have known that it ended up going to clothe some of the most wretchedly exploited human beings on earth."
That cloth was known as "negro cloth", a coarse durable woolen material that became the staple uniform of slaves working on plantations in Virginia, South Carolina and Jamaica.
The cloth was produced right across the counties of mid Wales in small farming households and was sold on to buyers in Shrewsbury, and later in Liverpool, for export.
Swansea's copper industry also capitalised on the trade in humans. By the mid-18th Century, Wales was the world centre of copper and brass production.
Industrialists who owned smelting and refining works in Swansea were intimately connected with Bristol and Liverpool slavers. The copper they produced was an essential bartering tool in the markets of the West and Central coast of Africa.
"Traders in Africa were not going to be fobbed off with trinkets," said Prof Evans.
"African demand was very precise. Copper was used extensively as a decorative or a domestic material for pots, pans and for personal use. It was essential in enabling traders to buy slaves."
Prof Evans revealed that owners of the Welsh copper industry continued to use slaves long after its abolition in the British Caribbean Empire in 1838.
Welsh industrialists had got their hands on a copper mine in the town of El Cobre in Cuba.
Cobre means coppers in Spanish, and the ore that was found there was a far higher grade than the ore from Cornwall, which originally which supplied the plants in Swansea.
What is not so well known is that in order to assemble a workforce quickly and keep the mine staffed, Welsh industrialists conveniently rented slaves from Spanish owners well in to the 1860s.
One account written by an engineer from Cornwall, James Whitburn, tells of floggings that left slaves "groaning with a fever".
It wasn't until the price of copper crashed, that the mining in El Cobre was brought to a halt.
"Slavery didn't stop. It was mining that stopped," said Dr Evans.
"It's a mistake to view Wales as a colonial victim. We like to think of ourselves as being on the side of the downtrodden but wealth trickled back from the slave trade in the Caribbean and has left visible traces on the landscape today".
Cyfarthfa Ironworks in Merthyr Tydfil is one such example, as are countless Welsh country houses.
Many people in Brecon will be interested to hear what Dr Evans has to say today about their town's involvement in the slave trade.
Recently the town council unveiled a plaque to commemorate controversial local historical figure, Captain Thomas Phillips.
Captain Phillips was responsible for transporting 700 slaves across the Atlantic to Barbados in the 17th Century. Dysentery swept through the boat and only 352 slaves survived the journey.
After retiring, Captain Phillips wrote an account of the trip in his journal Voyage of the Hannibal.
In it he made some remarks that questioned the rationale behind the trading of human beings simply because they are a different colour.
A statement from the environment committee of Brecon Town Council said: "We are not commemorating Captain Phillips' period as a commander of a slave ship.
"We are commemorating the fact that in his journal written in the 1690s, he was one of the first recorded persons of his time to make such liberal remarks on race."
But Prof Evans points out Phillips also compared the slaves on his boat to "a parcel of creatures nastier than swines".
"There was no indication in his writings that he underwent a conversion process," said Dr Evans.
"The fact that Thomas Phillips had some qualms about the treatment of human beings didn't mean he was going to campaign against the slave trade. No-one did in the 1690s.
"Unfortunately, even when the anti-slavery movement gathers steam, Welsh abolitionism is, in many respects, the dog that doesn't bark."
Prof Chris Evans will launch his book "Slave Wales - the Welsh and Atlantic Slavery, 1660 - 1850" on 29 October at 1400 BST at the Country Life and Welsh Flair shop, St Mary St, Brecon.