Llansanffraid survey suggests villagers want 'T' back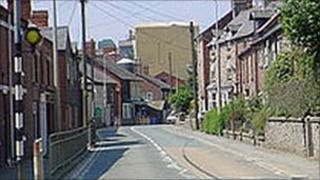 To T or not to T: that is the question in a dispute about a village name.
Llansanffraid-ym-Mechain was spelled Llansantffraid since the mid-1800s, until being dropped by Powys council, claiming it was correcting a mistake.
The community council wants it back, and more than 70 villagers agreed in a survey, with only three opposed.
But while it may seem a storm in "T" cup, it could carry on brewing, as one councillor says residents insist on Llansantffraid - and not Llansanffraid.
Powys council argued that when it made the change in 2008, it was correcting a mistake dating back to the mid-1800s, when a translation described Celtic Saint Brigit as a man, rather than a woman.
Powys council said the Welsh language spelling of Llansanffraid should take precedence.
But community council vice-chairman Doug Williams said that while Royal Mail had recently decided to drop the T as well, local people still wanted the longer version and pointed to the results of the survey.
Mr Williams said people resented Powys council's decision to change the name of the village without consulting villagers or local councillors.
He added: "The results of the survey were revealed at the last council meeting and showed that more than 70 people wanted the T back and three didn't want it.
"We can't understand Powys council's logic. Some street lights are out in the village and the road surface needs attention and it has spent money altering road signs that nobody wanted in the first place.
Standardised names
"We've asked Montgomeryshire MP Glyn Davies to help us in our attempt to overturn this ridiculous decision."
A Powys council spokesman said Llansanffraid Community Council was consulted when work to change the name was carried out.
He said: "The county council carried out work to create a standardised list of place names between 2000 and 2002 working with the Welsh Place Name Standardisation Committee.
"The committee is a national body led by the Welsh Language Board, Welsh Assembly Government, the Ordnance Survey, academics and local authorities.
"The use of Llansanffraid-ym-Mechain drew on a number of sources - Melville Richards' Welsh Administrative and Territorial Units and a Gazetteer of Welsh Place-Names edited by Elwyn Davies as well as other reference books which show the use of 'san' since the 12th Century.
"Community councils were consulted as part of the original standardisation work, Llansanffraid Community Council acknowledged the work but did not comment on the proposals. The county council did write to them in March to apologise to for not contacting them when a decision to use Llansanffraid-ym-Mechain only was taken.
"The county council also forwarded a letter from the standardisation team to the community council explaining why Llansanffraid-ym-Mechain was the correct spelling.
"Signs with the correct spelling were only erected when older signs were due for normal replacement: there was no additional expense."