Dyfed-Powys Police in park festive quad bike warning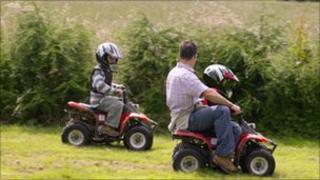 Parents are being urged to think carefully before giving any form of motorbike to their children as Christmas presents.
Dyfed-Powys Police and Brecon Beacons National Park are warning about safety, while tackling illegal off-roading.
The advice coincides with a new leaflet designed to educate riders about their rights and responsibilities.
The European ATV (All Terrain Vehicle) Safety Institute urged new quad bike owners to take a safety course.
The national park said motorbikes could only be ridden by over-16s with a licence, an MOT, insurance and safety equipment, but quad bike manufacturers make 50cc models targeted at six--11-year-olds.
Officials said the machines could legally be ridden on public roads, byways open to traffic and on private land with the owner's permission.
However, it is illegal to ride them on footpaths, bridle ways, restricted byways, common land, national park land and any other land without the landowner's consent.
The police advised parents to think "safety first".
Sgt Kelvin Briggs of Dyfed-Powys Police said: "Motorcycles and quad bikes are always a popular choice for Christmas presents, and we want to make sure parents are aware of the dangers and problems that accompany these vehicles before they buy them as Christmas presents.
"Parents need to think safety first and make sure they inform their children where they can ride safely and legally. We understand that many parents and children may not be aware of the legal requirements associated with the use of motorcycles, but we are more than happy to offer appropriate advice."
Judith Harvey of the national park authority said: "After the Christmas period we usually experience an increase in illegal activity on our protected landscapes and the wet weather makes our countryside even more fragile and susceptible to damage."
'Tricky machines'
The European ATV Safety Institute is sponsored by the manufacturers Honda, Suzuki, Yamaha, Kawasaki and Polaris to provide a free safety course for new quad bike owners, aged six and upwards.
People buying second hand ATVs have to pay £90. The course is also open to people who do not own ATVs at a cost of £180.
Amy Morris of the institute said: "There are 42 locations around the UK and Ireland where these courses can be taken. Adults and children, from aged six and upwards, can take the course.
"A section centres on safety and responsible practices. It advises riders to have the landowners' permission before rising on land and provides information about restrictions concerning rights of way."
Ms Morris said dealers also provided advice about where to ride safely and Quad Bike Magazine had a "where to ride" section.
She added: "It's vital children and adults take advantage of an ATV safety course. They are tricky machines to ride and it's imperative riders receive advice."