Bilingual PR firm Strata Matrix goes into liquidation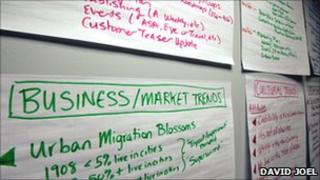 One of the first bilingual public relations companies in Wales has gone into liquidation after more than 30 years in business, says its founder.
Strata Matrix, with offices in Aberystwyth and Cardiff, has made 12 people redundant.
Chairman and founder Wyn Melville-Jones said his firm had been the victim of the tough economic climate.
He formed the company in Aberystwyth in 1979 and 10 years later an office opened in Cardiff.
Mr Melville-Jones said: "After 31 years it's tough to take, but it's really down to the recession and the public sector cutbacks.
"They were due to come in next April, but a lot of organisations have been operating cuts for many months and this has effected our workload."
Mr Melville-Jones said he had worked through previous recessions, but this one had created a "darker and and deeper hole" than previous economic downturns.
He added: "When we started there were a few PR firms in Cardiff, but they were part of larger organisations and they knew nothing about Wales and certainly didn't have the Welsh language capability.
"We were the first bilingual public relations company in Wales. We started in Aberystwyth and the company quickly grew and grew.
"Ten years later we wanted an office in Cardiff, so we merged with a design company called Matrix and that's how Strata Matrix came into being."
Mr Melville-Jones said during the next 10 years the company focussed on public affairs in Cardiff Bay and built up a strong client list.
"It's not the happiest moment of my life, but we've had top quality clients and good suppliers and I have some great memories," he added.