Brecon mountain rescue plea for staff after calls rise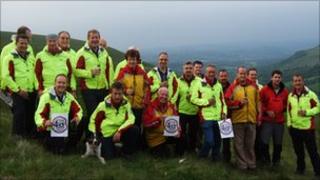 A mountain rescue team has launched an appeal for more "back room" staff after a sharp rise in call-outs in recent years.
The team in Brecon is looking for six volunteers to help raise funds, to operate base radios and to work on promotion and marketing.
They also want staff to forge stronger links with the community.
Team spokesman Kevin Harding said call-outs had more than doubled from 40 to around 90 in recent years.
He said the rescue team, which numbered about 40, were so busy that more people were needed.
Mr Harding said: "There was a time when we did everything, from fund-raising to marketing. But the call-outs have increased so much that it's impossible for the rescuers to do everything.
"A few years ago we were getting about 40 call-outs a year, but that has risen to between 80 and 90."
Mr Harding added volunteers helped set up the team's base, acted as radio operators in the control room, issued and were accountable for equipment handed out to members on call-outs.
The rescue team faced its busiest start to a new year on record after heavy snow in January.
It received 16 call-outs in the first 18 days, including dealing with motorists and ambulances trapped in snow drifts.