Aberystwyth promenade shelters cost £60k to replace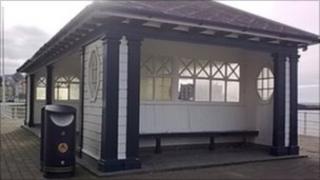 Two 80-year-old public shelters on Aberystwyth promenade are to be replaced with new ones at a cost of £60,000.
Ceredigion council said the shelters had been battered by storms for years and were becoming too costly to repair.
The new shelters will be identical to the originals, said officials.
The council said it had received a Welsh Assembly Government grant to help replace the buildings.
The work is expected to be completed by next spring.
A council spokesman said: "The two public shelters have been in place on Aberystwyth's promenade since the 1920s. The cost of their replacement is approximately £60,000.
"They have been subject to major storms over many years, particularly in 1940 and 1976, and have been subject to so many repairs over the years it is very difficult to say what parts are left of the original shelters.
"Ceredigion County Council has secured grant funding from the Welsh Assembly Government for the replacement of both the existing shelters on the north promenade."
The spokesman said the shelters had required regular maintenance over the decades and one required major repairs which the council could not afford.
"The shelter near Bath Rock will be replaced in its exact location whereas the smaller shelter, near the Royal Pier, will be repositioned approximately one metre back from the road, in order to allow better access to and use of the shelter from the roadside," added the spokesman.