GPs urged to prescribe Wales forest walk remedy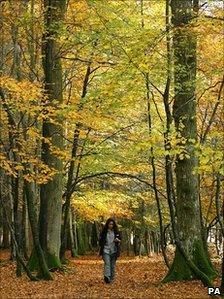 People with health problems could be prescribed a woodland walk by their GP under proposals by the Forestry Commission.
Doctors are being urged by the commission to use its "natural health service" as a remedy for a range of conditions from obesity to stress.
Forestry chiefs claimed a woodland walk was a better form of exercise than sending people to the gym.
Health professionals are meeting to discuss the plan near Aberystwyth.
The mental health charity Mind, Ceredigion's GP referral coordinator and Age UK are among a number of groups meeting in Coed Geufron woods.
Forestry Commission Wales said it would be urging doctors to refer patients to their local woodland in an attempt to help them "live longer, healthier lives".
A five-week pilot scheme aimed at increasing physical activity starts in the new year in Aberystwyth and in Treherbert in Rhondda Cynon Taf, it added.
Richard Davies of the commission said: "Currently, health professionals tend to refer people to indoor activity, such as gyms, rather than to the outdoors.
"This is generally owing to a lack of awareness of the additional benefits exercising in the outdoors - and especially in woodland - can deliver.
"Studies have shown that looking at greenery causes a rapid reduction in stress - blood pressure, muscle tension pulse rate - usually within minutes of exposure, and is most obvious when the body is already stressed."
About 14% of Wales is covered by woodland. Of this, 38% (126,000 hectares/311,000 acres) is owned by the Welsh Assembly Government.
Mr Davies claimed there was "strong medical evidence of the link between physical activity and lower rates of obesity, cardiovascular disease, osteoporosis and type two diabetes".
He said there was also evidence of reductions in the incidence of some cancers, greater mobility and fewer injuries associated with ageing in the elderly.
Related Internet Links
The BBC is not responsible for the content of external sites.