Aircraft plan to replace Dyfed-Powys Police helicopter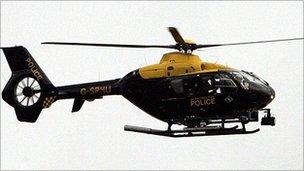 Plans for a fixed-wing aircraft are being considered to replace the Dyfed-Powys Police helicopter.
The helicopter will be scrapped if plans for a National Police Air Service (NPAS) in Wales and England get the go-ahead.
The number of aircraft and bases would each be cut by a third.
Meanwhile, there are concerns over emergency rescue services after plans to privatise search and rescue operations were leaked.
Proposals by the UK government include selling off helicopters at RAF Valley on Anglesey and replacing them with a private consortium.
A government source says the sale will be given the go-ahead.
Proposals for a national police helicopter service are a separate development.
But after concern over response times, plans for a fixed-wing aircraft are being considered by Dyfed-Powys Police Authority.
The new national service is predicted to save just over £15m.
It would reduce the number of air bases to 20 and lead to 23 aircraft being used instead of the current 31.
Under the proposal, the Dyfed-Powys helicopter would be withdrawn and the force serviced from three bases: St Athan in the Vale of Glamorgan, Rhuddlan in Denbighshire, and Halfpenny Green near Wolverhampton.
The Association of Chief Police Officers (Acpo) has said it would be operated from a central command centre.
But figures suggest while 100% of the force's population can be reached in under 25 minutes under the existing system, only 61% could be reached under the proposed 20-base system.
Chief police officers raised concerns about the impact of the proposals on response times and the fact that the police authority had recently invested in a new air support base in Pembrey.
In response, the NPAS project team suggested a fixed-wing aircraft could be based in the force area instead.
The costs would be "significantly lower" than for a helicopter and would offer longer flight times and the ability for thermal imaging and video camera use.
A report to the police authority said it was accepted there were some disadvantages such as "ease of landing and flexibility of deployment".
The project team told chief officers at a meeting last month that it was generally accepted that 80-90% of police air support tasks could be carried out by fixed-wing aircraft.
Officers have requested further detail about costs and say further work must be carried out on financial issues before the plan can be taken further.
Related Internet Links
The BBC is not responsible for the content of external sites.