Work on improving Royal Welsh ground nears completion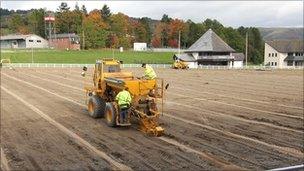 A £200,000 project to replace the main ring at the Royal Welsh showground in Powys is expected to be completed before Christmas.
A hard wearing grass is being laid in Llanelwedd, and a new drainage system installed.
Costs had been put at £500,000 and work had been set for two stages, but officials hope the project's second phase will not be needed.
Plans to remove three feet of soil from the ring have been shelved.
Work started in October following a third rain-soaked Royal Welsh Show in four years in July.
Officials revealed during the show that ring replacement costs had risen from £360,000 to £500,000.
Work has included installing a deep pipe drainage system and surface water cut-off drains inside and outside the arena. Fine sand has also been added to the top soil to enhance the drainage.
"The improvement works have progressed well," said Jonathan Smith of contractors GEO Turf Consulting Limited.
"However, if further works are necessary, these will be undertaken once the current improvements have been addressed."
Related Internet Links
The BBC is not responsible for the content of external sites.