Cardigan Castle receives £250,000 for revamp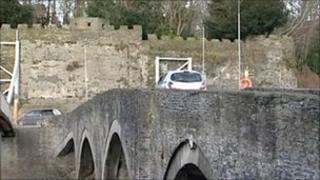 A project to revamp a 12th Century castle has been awarded £250,000 from a £570,000 package for heritage projects.
The money from the historic buildings body Cadw will be used to help convert Cardigan Castle into a heritage centre, with a Welsh language school.
Twelve projects are benefiting from the grants, including St David's Cathedral, Christ College chapel in Brecon and Pontypridd museum.
First Minister Carwyn Jones announced the funding on a visit to Cardigan.
The latest boost to the town's castle comes as the Cadwgan Building Preservation Trust, which is in charge of its revamp, waits to hear if a £4.5m Heritage Lottery Fund (HLF) bid has been successful.
The HLF awarded the trust £300,000 in 2008, which was used to employ staff and pay fees.
The trust has to match fund the money, and has applied to the Welsh Assembly Government, the European Union and trusts for additional money towards the £9.5m renovation project.
It also has to raise £150,000 towards the building costs.
The Cadw funds, distributed over three years, will be used to refurbish Castle Green House, the Gardener's Cottage and 43, St Mary Street, Cardigan.
Cadwgan trust chair Jann Tucker said they were "extremely grateful" to Cadw for awarding the grant towards the restoration.
"The trustees are very excited that the round two (HLF) bid has now been submitted and eagerly await the decision," she added.
"We are hoping for a positive outcome in order that the restoration of the castle can finally begin for the good of Cardigan town, its local residents and all the visitors who we welcome each year."
The trust is working with Ceredigion council and the Prince's Regeneration Trust to transform the castle, which is said to have been the birthplace of the National Eisteddfod in 1176.
Carwyn Jones said: "I'm delighted to offer this grant to the Cadwgan trust and very much hope it helps towards the next round of funding.
"I'd like to applaud the hard work undertaken by the trust in their efforts to safeguard the future of the castle and for their desire to see the castle, which played such an important part in Welsh history, to be a meaningful part of community life in the future."
The Norman castle featured in the BBC's Restoration series in 2004.
Ceredigion council later received more than £200,000 in grants to help restore the old building.
Plans to transform it into a museum of Welsh paintings fell through in 2005.
The Welsh Assembly Government grants administered through Cadw are for essential repairs and restoration work.