Pint-sized paparazzi's Brecon pavement ban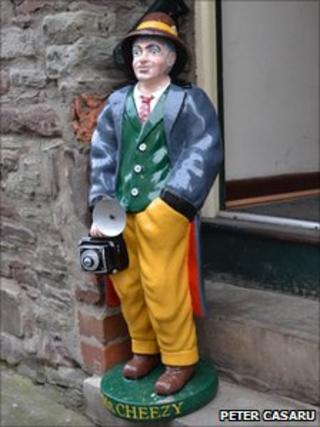 A model paparazzi has been ordered off the streets because he is blocking the pavement outside a photography shop.
Mr Cheezy, complete with press badge in his hat and camera in hand, has stood outside Say Cheeze in Brecon, Powys for 11 years.
But Powys council said the 90cm tall model infringed minimum footway requirements and streets needed to be "clear of clutter".
It now stands on a step outside instead.
Owner Peter Casaru said the council's decision was "over the top", but he had complied with its wishes.
"I'm told to put my rubbish outside and that blocks the pavement," he added.
"I am going to comply and Mr Cheezy is now on the step outside the shop rather than on the pavement."
Mr Casaru said Mr Cheezy, who was made in France and bought at auction for £80, was a signal to customers that his shop was open, and tourists had their picture taken with him. He added that the model was only 25cm wide.
"People in wheelchairs can get past okay with Mr Cheezy there and blind people have their sticks to help pass him," he said.
But Powys council said businesses were reminded to keep footways and pavements clear of advertising signs and goods to ensure the safety of pedestrians.
It has a policy that requires a minimum footway width of 1.5m, extending up to 3m at bus stops.
A council spokesman said: "We recognise that the display of goods and advertising signs can add to the sense of life and vitality of our streets.
"But it is important that our streets are kept clear of clutter to ensure that pedestrians have free and easy access to move about, especially for those who are sight impaired, elderly or need to use pushchairs and wheelchairs."