Storm-battered shelter on Aberystwyth front must stay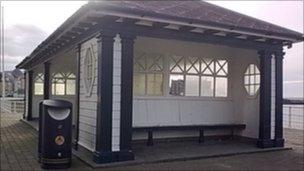 Plans to replace an 80-year-old public shelter on Aberystwyth seafront have been scrapped after it was made a listed building.
Ceredigion council was planning to build a new shelter because the original had been battered by storms and was becoming too costly to repair.
It said listed building consent would be needed before repairs could be made.
A smaller version nearby has already been demolished and will be replaced in about two weeks, said the council.
Ceredigion said the Welsh historic monuments agency, Cadw, made the larger shelter a listed building last week. There were plans to demolish it later this year.
The council did not need planning permission to demolish the smaller version.
A spokeswoman said: "The project covered one small and one larger shelter on the promenade.
"The smaller shelter is currently being replaced and work should be completed within two weeks. The larger shelter was considered for listing by Cadw and was listed last week.
"This has the effect of preventing the replacement of the shelter as planned. Listed building consent will now be required before any repairs can be carried out.
"The original funding was for the replacement of the shelter not for repairs. Financial regulations prevent capital funding being used for repair work."
The replacement shelters were planned to be identical to the originals and the cost had been put at £60,000.
Related Internet Links
The BBC is not responsible for the content of external sites.