Penlon primary in Llwyncelyn thrown closure lifeline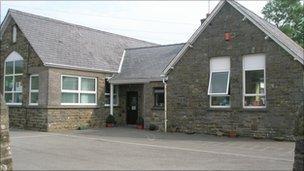 A primary school threatened with closure has been thrown a lifeline by Ceredigion councillors.
Earlier this month the council's cabinet decided to close Penlon primary in Llwyncelyn because of low pupil numbers.
But the decision was delayed after councillors queried a claim that pupil numbers at the school had fallen below the council's threshold number of 20.
This followed a campaign by school governors to attract more pupils.
A scrutiny committee has now decided that the future of the school, based two miles south of Aberaeron, should be discussed by the full council on 5 April.
Deputy chair of the school governors, Mona Lewis, said: "We were shocked at the council cabinet's decision to close the school because we believe that if we survive the next couple of years the school will thrive.
"The pupil numbers used by the council to support their case to close the school was taken in September 2010, when there were less than 20 pupils on the register.
"But in the past the council has taken pupil number data every January.
"We now have 22 children at Penlon and our projected figures are that pupil numbers will stay above 20 for the next few years.
"We have decided to organise an open day on 5 March so we can show people that Penlon is a happy and successful school."
The school's last inspection by Estyn in 2008, when there were 48 pupils on the register, stated that Penlôn was a good school where relationships between teachers, support staff and pupils were always good and often very good.
John Lumley, county councillor for the area, said: "This decision has given the school an opportunity to market itself and attract new pupils.
"The county council's development plan has earmarked 80 new houses to be built in Llwyncelyn by 2022.
"This will provide an opportunity for pupil numbers in the school to increase over the next few years.
"I am hopeful that county councillors will now vote to keep the school open."
A council spokesman said: "The scrutiny committee gave careful consideration to the pupil numbers attending Ysgol Penlon.
"Due to the constant fluctuation of pupil numbers between 16 and 20 it was proposed that the full council should be presented with the facts before a final recommendation to cabinet is made."
Related Internet Links
The BBC is not responsible for the content of external sites.