Llanfarian man with spinal problem offered council home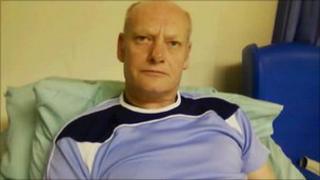 A former police officer partially paralysed by a spinal condition says a council has finally offered him a home after months in hospital.
Anthony Hawkins, 47, from near Aberystwyth, Ceredigion, should have been discharged from Tregaron hospital on 10 January.
Ceredigion council had until Tuesday to offer Mr Hawkins a specially-adapted property.
The local authority said it did not discuss individual cases.
Mr Hawkins, who uses a wheelchair, claims he was declared homeless by the council a few weeks ago after an occupational therapist ruled that his current rented home, in the village of Llanfarian, was unsafe and unsuitable for someone with his health problems.
Mr Hawkins, who was a police officer in Jersey for nearly 10 years, said the council had a legal requirement to find him a home by Tuesday.
He has multiple discopathy which has led to the collapse of part of his spine. It will eventually lead to paralysis from either the waist or the neck down, he said.
Mr Hawkins has been in Tregaron hospital since last October, and has also spent a few days at the University Hospital of Wales, Cardiff, where he had emergency surgery.