Aberaeron farmer hails solar power 'success'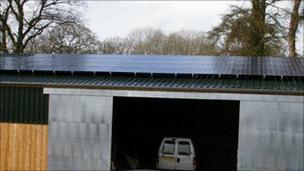 A farm in Ceredigion has become one of Wales' first carbon neutral farms, generating its own electricity from solar power.
Family-run Blaencamel Farm at Aberaeron is now able to produce enough power to run the farmhouse, shop and farm.
It has installed 39 solar panels on the barn, is introducing solar irrigation and is building an electric tractor.
A farming union said more funding was needed to tackle "high start-up costs" of using such technology.
Organic vegetable farmer Peter Seggers is encouraging other farmers to consider the benefits of renewable energy to cut down on rising costs.
Sustainability has been at the heart of 50-acre Blaencamel Farm's ethos for the last 36 years. But after the installation of the solar panels, the farm now generates 80% more electricity than it needs.
And the farm also makes extra money by selling this surplus electricity back into the National Grid under a feed-in tariff scheme.
Mr Seggers said the solar panels have been a "huge success" for the business.
He is now building an electric tractor, which will be powered by renewable energy.
"We've always grown foods using recycled materials and home-made compost rather than importing foreign fertilisers," he said.
"The solar PV panels are simply the next step in our eco-journey which will continue as long as we're farming."
Mr Seggers and his partner Anne Evans spent £30,000 on creating their 8.2 kilowatt system.
The farm was fully powered and earning money through the feed-in tariff scheme in the same week as the 210 watt panels were installed.
Mr Seggers said he will be advising other farmers to do the same.
"It is crucial that people see that renewable energy works and is accessible and affordable," he said.
"Farmers need to be wise and anticipate the rising cost of energy, putting in place the systems they need while the government is still offering a financial incentive to do so.
"I encourage all farmers to act quickly. If you have the cash, invest it in your farm's future and look into renewable energy."
The Farmers' Union of Wales (FUW) said it supported the generation of energy by renewable processes to reduce dependency on fossil fuels.
But a spokesman added that any new technology suffers from "poor infrastructure and high start-up costs which act as barriers to uptake."
Related Internet Links
The BBC is not responsible for the content of external sites.