Tributes paid to Llanidloes reservoir victims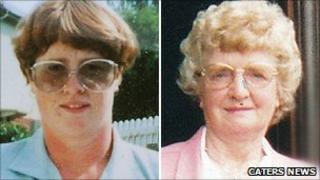 Tributes continue to be paid to four family members who died when their car plunged into a Powys reservoir.
Driver Denise Griffith, 55, of Pontypridd, managed to get out of her Peugeot 807 and swim to the edge of Llyn Clywedog, near Llanidloes.
But her husband, Emyr, 66, died along with their foster sons, Peter Briscome and Liam Govier, both 14, and her mother Phyllis Hooper, 84.
Friends described Mr and Mrs Griffith as "excellent" foster parents".
They were well-known in their home town of Pontypridd, where the family attended Bethany Baptist Church.
Deacon Andrew Phipps said: "We will be there for Denise."
He said the congregation was "stunned", adding: "We will be praying for them and doing what we can to help."
Pastor Darren Rogers said: "Denise and Emyr had provided a loving home for a number of children throughout the years and lived for their children, who were loved unconditionally.
"Denise's mother was a member of the church for many years and the family had a great faith and love for the Lord."
The family had been on holiday in the area and their car plunged into the reservoir following an incident between their Peugeot and a Ford Mondeo on Wednesday.
The driver of the Ford was arrested and has been released on police bail.
Detectives are expected to speak to Mrs Griffith on Friday, as they try to piece together what happened.
A Dyfed Powys Police spokesman said: "Denise will be spoken to this morning.
"Because of what she's been through, it won't be like a normal interview."
John Ivor James, 61, from Aberystwyth, who was a friend of Mr Griffith, said the chapel minister's son had worked as an electricity meter reader and a postman.
"He was an outstanding friend," he told BBC Wales.
"I met him in 1977 through Aberystwyth squash club. He was a very considerate man, and it was through him that I met my wife, Janet.
"He was a very good squash, bowls and snooker player, and a reasonably good footballer. He was deaf though, but that didn't stop him and he was a very good lip reader."
Mimi Lloyd, from Aberystwyth, was one of the Griffith's first foster children.
She said: "He was an absolutely lovely man. He did not have a bad word to say about anybody. I shall miss him greatly. I am thinking about Nana Ponty as well (Mrs Griffith)."
Next door neighbour in Pontypridd Shirley Williams said: "I can't get over it," adding that they were "very nice people".
Another neighbour John Davies added: "This is so tragic. They were such a nice family, people who would do anything for you. Denise was a foster mother and a lovely woman."
The victims' bodies were recovered with the help of the fire service, a diving team and RAF helicopters.
On Thursday, a minute's silence was observed at county hall in Llandrindod Wells.
Llanidloes councillor Gareth Morgan said: "People have been deeply saddened by the deaths.
"It is a great tragedy to have four people wiped out in this terrible way and for the driver to be left without her husband, mother and teenaged foster boys."
Mr and Mrs Griffith were described as keen sports fans, Cardiffy City supporters and Mr Griffith was a member of Pontypridd's Taff Ely Indoor Bowls Club.
Secretary David Evans said: "To me, Emyr was a lovely man. He'd help anybody.
"He was an excellent bowler. He was a good sportsman.
"He liked Cardiff City and all the family used to go down every Saturday when there was a home game."
Mr Evans said Mr Griffith used to play bowls at the club up to four times a week, taking his wife on Tuesdays and the two boys would also attend.
Barbara Brown, who played bowls with Mr Griffith, said: "The world is very cruel because he did so much good."