Llanidloes reservoir crash survivor 'devastated'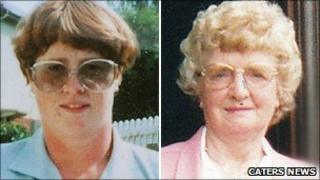 The survivor of a crash which killed four members of her family when their car plunged into a reservoir near Llanidloes, Powys, has spoken publicly of her grief for the first time.
Denise Griffith, 55, from Pontypridd, who was driving, said she and her family were "extremely devastated".
Her husband Emyr, 66, foster sons, Peter Briscome and Liam Govier, 14, and mother Phyllis Hooper, 84, all died.
Another driver has been bailed over the incident at Llyn Clywedog.
In a statement issued through Dyfed Powys Police, Mrs Griffith said: "At this difficult time, we would just like to say we are all extremely devastated by the tragic incident on Wednesday, April 20.
"We are helping each other as a family and would like to thank the whole rescue team for all their hard work and efforts in rescuing our mother, my husband and the two boys. Also the kind words from our neighbours and friends."
Mrs Griffith was at the wheel of the Peugeot 807 when it went into the water. They had been on a family Easter holiday in the Machynlleth area.
Although she managed to swim to the edge of the reservoir and escaped with minor injuries, her passengers could not be saved after the crash on the B4518 on Wednesday afternoon.
She refused to leave the reservoir until her family's bodies had been recovered and was said to be "deeply traumatised".
Mrs Griffith appealed for privacy in her statement issued through police.
"We would appreciate if the media would now leave us to grieve as a family and allow us to get on with all the necessary arrangements," she added.
Tributes have been made to the family in Pontypridd where Mr and Mrs Griffith were described as "excellent" foster parents.
Darren Rogers, pastor at Bethany Baptist Church, said: "Denise and Emyr had provided a loving home for a number of children throughout the years and lived for their children, who were loved unconditionally.
"Denise's mother was a member of the church for many years and the family had a great faith and love for the Lord."
Mr and Mrs Griffith were described as keen sports fans and Cardiff City supporters and Mr Griffith was a member of Pontypridd's Taff Ely Indoor Bowls Club.
Cardiff FC are to pay their respects to the family at Saturday's Championship home match against QPR.
Chief Executive Gethin Jenkins said a tribute would be paid to the family during half-time at the Cardiff City Stadium, and a message of condolence was included in the match programme.
"It's a horrible tragedy … we know they were big supporters of Cardiff City," he said.
"Our thoughts are with Mrs Griffith and her family at this time.
"We regard ourselves as a family club - it puts things into perspective of a football match today."
On Thursday, a minute's silence was observed at county hall in Llandrindod Wells in Powys.
Llanidloes councillor Gareth Morgan said: "People have been deeply saddened by the deaths.
"It is a great tragedy to have four people wiped out in this terrible way and for the driver to be left without her husband, mother and teenaged foster boys."
A 23-year-old man was arrested on suspicion of causing death by dangerous driving on Wednesday, and was released on police bail.