Leopard Rajah's fight to stay at Borth Animalarium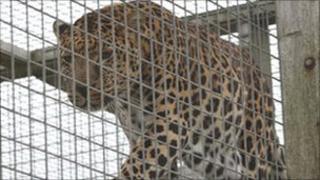 The owners of a 16-year-old leopard are fighting a court order to prevent him being seized from their animal home.
Officials had spent hours trying to confiscate Rajah from Borth Animalarium in Ceredigion, but he refused to be enticed into a box with meat.
Now his owners Jean and Alan Mumbray say they are appealing to the Criminal Cases Review Commission.
Police have said that Rajah and other other animals would be recovered later "with minimum disruption".
The couple say they are expecting another attempt to remove Rajah on Wednesday, 4 May.
Last August, Mr and Mrs Mumbray were fined by magistrates and told the animals would be found new homes, after they admitted displaying animals without the correct paperwork.
Officials tried unsuccessfully to remove Rajah and eight other rare animals, including a lynx and two lemurs, under a court order.
Mrs Mumbray, 72, said Rajah was already confined to his sleeping area in the animal centre to reduce the stress for him of the planned move.
But after five hours it became apparent he was not willing to be persuaded into the box officials had brought to move him.
Mrs Mumbray said: "The box was so small he only had to reach in with his paw and unhook the meat.
"I told them it was much too small. If it had been a little bit bigger, he might have gone in.
"He didn't want to go in. They tried to bribe him in with lumps of meat."
The Mumbrays said they took on Rajah six years ago after his previous owner emigrated.
They claimed the 16-year-old leopard was born in the former Basildon Zoo, Essex, but delays in paperwork meant they were unable to prove his background until the court order had been granted.
A Dyfed-Powys Police spokesman said earlier this month: "The recovery of the animals is being professionally and sensitively handled - at no point were any animals chased or agitated.
"The animalarium's own vet was present during the entire process and was satisfied with how proceedings were being handled."
The spokesman said that the animals would be recovered at a later date "with the minimum of disruption, which can be a slow process".