Temporary ban on Gower cockle and mussel harvesting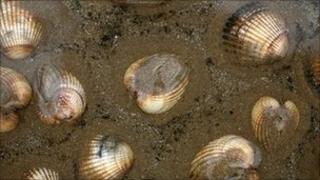 Harvesting cockles and mussels in the Gower has been temporarily banned after some shellfish were found to be poisonous.
Swansea council said the beds in Whitford Sands had been closed after samples proved positive for diarrhetic shellfish poisoning (DSP).
Beaches in the area remain open and there is no risk to bathers.
The ban was imposed following advice from the Food Standards Agency and environmental experts.
The shellfish beds will be sampled again next week. Two consecutive negative samples, not less than seven days apart, will be required before the area can be re-opened.
DSP is naturally occurring and can cause diarrhoea, nausea, vomiting and abdominal pain if infected shellfish are eaten.
The effects usually come 30 minutes to 12 hours after consumption and the illness can last about four days.
Swansea council's divisional officer for food and safety, Lynda Anthony said: "Following the positive tests for DSP we have taken the appropriate action to close the beds until we are assured that shellfish in the area is safe for public consumption.
"Officers are putting notices along the entry points to the beds and are informing shellfish gatherers and producers that these activities must cease until further notice.
"We understand the concerns of gatherers and producers in the area and we would all like to see the beds re-open as soon as possible. In the meantime, our priority must be to protect public health.
"The closure of the shellfish beds does not in any way affect recreational use of the beaches. There is no health risk to beach users, but they must not collect or eat cockles or mussels."