Llanidloes Royal Mail sorting office to close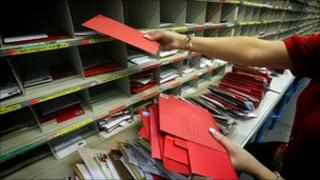 The Royal Mail is shutting a sorting office in Powys, but there will be no job losses.
The work and eight posts in Llanidloes will switch to Newtown on 13 June under the cost cutting proposals.
Town county councillor Gareth Morgan said he and fellow councillors met officials from Royal Mail, but he said they were "determined" to close it.
Royal Mail said the closure was prompted by the need to improve efficiency.
In recent months, Royal Mail has shut a sorting office in Mountain Ash and moved the work to Aberdare in Rhondda Cynon Taf.
Another office in Llandovery closed on 7 March and the post will be sorted in nearby Llandeilo, Carmarthenshire.
'Protested'
Royal Mail delivery sector manager, Ewen Davies said: "The challenges facing Royal Mail since the opening up of the postal market and the increasing number of competitors vying for business customers, also requires us to improve efficiency and reduce costs, in order to secure future business and jobs.
"We always consult with our staff and the postal workers union (CWU) before making a decision and we are confident that the Llanidloes office move is the right one for both our people and our business."
Mr Morgan, a former mayor of Llanidloes, said the closure of the sorting office was another example of rural Wales losing services.
"We have protested and had a meeting with Royal Mail, but they are determined to go ahead and close the building."