Liam Neeson Clash of the Titans sequel's bat problem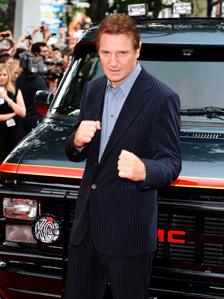 Filming of part of a sequel to Clash of the Titans in the Brecon Beacons will have to be halted if it disturbs a colony of bats.
Producers have been given permission to spend two months shooting the sequel to Clash of the Titans in a deep quarry.
But they will have to stop filming if they affect a colony of rare lesser horseshoe bats.
A spokesman for the film, also starring Ralph Fiennes and Sam Worthington, said: "We will be very careful."
The quarry, near the village of Trefil, Blaenau Gwent, is set to be turned into barren rocky landscape for the location filming for the Warner Bros production Clash Of The Titans 2: Wrath Of The Titans.
All three starred in the 2010 remake of Clash of the Titans, part of which was filmed at Dinorwig Quarry in the Snowdonia National Park.
The Brecon Beacons National Park Authority said it had given the bat warning on the advice of the Countryside Council for Wales.
Planning officer Ryan Greaney said: "The site provides a unique barren landscape for the film crews.
"But lesser horseshoe bats are known to inhabit the region and under the advice of the countryside council, filming should be halted if they are at risk of being disturbed."
A spokesman for the film said: "It would come to something if the gods and titans were brought down by some of the smallest creatures on the planet."
Related Internet Links
The BBC is not responsible for the content of external sites.