Powys farmers' Rihanna parody wins Glastonbury contest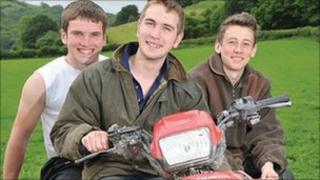 Two teenage farmers are to perform at Glastonbury, the UK's biggest music festival, with their parody of R&B star Rihanna's S&M.
Richard Lewis, 18, and Llion Vaughan, 17, of Powys, who use the alisases DJ Wooly and Will.I.Lamb, have named their version Plough On.
The Tractor Factor competition was run by the Farmers' Guardian newspaper.
Their video, shot on a farm by their friend Gus Harris, 17, was selected from a shortlist of six finalists.
Richard, of Llanfyllin, and Llion, of Llanrhaeadr ym Mochnant, faced stiff competition from the other acts, which included two girl groups - Girls A'Cowed and Farming Babes.
The Farmers' Guardian said 14,000 people took part in the X Factor-style public vote to choose Plough On, which has also received tens of thousands of hits on YouTube.
The farmers have won four tickets to the Glastonbury Festival, staged between 24 and 26 June, and have the chance to perform Plough On on the Yeo Valley stand at the festival.
Llion said: "The past weeks have been amazing, the response and support from people has been great.
"This competition was a brilliant and original idea which took a fresh twist on farming.
"I think this competition has hopefully brought many a smile and chuckle to many people across the country, and possibly even made a few farmers hum Plough On while out in the fields."
Richard added: "The competition has also shown that farmers these days are not just people who work with the land but are very diverse and like to have a laugh.
" It has been a great experience and I have enjoyed it very much."