River rescue Aberystwyth paramedic awarded for bravery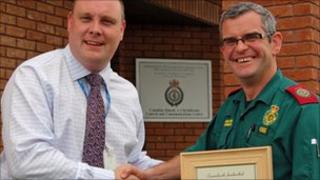 An Aberystwyth-based paramedic has been praised for his bravery in rescuing three people from a fast-flowing river.
During the incident at Blaendolau on 20 April, Ian Brandreth went into the river to help two adults and a child who were clinging to a branch.
He was awarded a Welsh Ambulance Service commendation.
Regional emergency planning officer Patrick Rees said Mr Brandeth's efforts helped prevent a tragedy.
Mr Brandreth said the initial call had suggested it might be a possible drowning.
"When we got there we couldn't get the vehicles to the river as a gate was locked, while my colleagues went to get a key, I went on foot," he said.
"When I got there three people were holding onto a branch of a tree in the middle of the river."
The paramedic, who is also an RNLI volunteer and a canoeist, used his water knowledge to find the safest area to enter the water, before managing to bring the adults and the little boy to the river bank.
Mr Brandreth added: "I put my belt around the boy so I had something to grab on to as he was only in his swimming gear.
"It was all in a day's work and you just do what you have to do," he added.
Mr Rees, who was also present at the rescue, said when he arrived at the scene "Ian was doing a great job".
"His combination of paramedic training and experience from being an RNLI member really came into play and helped prevent this incident from turning into a tragedy."
Mr Brandreth was presented with is award by Central and West Wales Regional Director Richard Lee.
"I am proud to be able to present this commendation to Ian as his bravery and training really made a difference to three lives during this river rescue," he said.