Canada target for Welsh lamb exports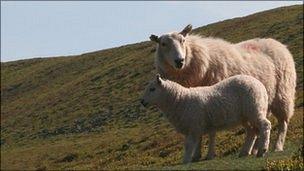 Canada is being lined up as the latest target for Welsh lamb exports, which are currently worth more than £111m to the UK economy.
Meat promotion body Hybu Cig Cymru (HCC) claims there is a growing demand for lamb from Canadians and immigrants to the country.
The HCC launched its initiative at the Royal Welsh Show in Powys.
It said export restrictions in Canada on Welsh lamb after the BSE crisis had been lifted.
A trade mission to the country is planned for the autumn.
At last year's show First Minister Carwyn Jones and the HCC held talks with a trade delegation from the Chinese Embassy in London.
The HCC said it was attempting to broaden the market for Welsh lamb.
"Our market research has identified Canada as a potential new market for Welsh lamb and it is now up to us and our partners in the processing companies to work together to turn this dream into reality," HCC chairman Dai Davies will tell a breakfast reception at the Royal Welsh Show on Monday.
Earlier this year, HCC asked the Canadian authorities to give Welsh processing plants the authority to export Welsh lamb to the country.
"There is a growing appetite in Canada for lamb as an alternative to other red meats, currently led by demand amongst immigrant groups from South Asia, Africa and the Middle East," said HCC's market development manager Laura Dodds.
"In addition, long-standing Canadian citizens with a traditional taste for lamb have combined with new immigrants to create a steady rise in demand."
The HCC said the latest available figures showed that in 2008, Canadians consumed 34m kilos of lamb of which just over half - 17.5m kilos - was produced domestically with the remainder imported.
The Canadian market currently relies on imports of lamb from New Zealand, Australia and the United States.
But with worldwide demand for lamb rising, Canada finds itself under served by the amount of lamb that is available to its consumers by its current suppliers, said the HCC.
This means that there is an opportunity for Welsh processors to fill the gap.
Deputy Minister for Agriculture Alun Davies said: "Welsh lamb has long been heralded as the best in the world and I would welcome any move by Hybu Cig Cymru to prove to the Canadian market just how good it really is.
"Food is also an excellent way of selling a country to tourists, so tapping into foreign markets will not only benefit farmers and processors but it will hopefully encourage people to visit Wales to sample the excellent produce we have to offer."
Related Internet Links
The BBC is not responsible for the content of external sites.