Ceredigion Museum gives away vintage clothes collection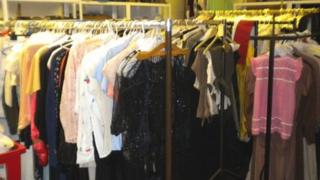 For a lover of vintage clothes Margaret Evans's vast collection is a dream come true, but it has turned into something of a headache for one museum.
Extending to 17,000 items, it is being broken up and some of it is being given away to the National Trust.
Mrs Evans, a former magistrate, died in 1996 and council-run Ceredigion Museum has cared for the collection in Aberystwyth ever since.
But it is too large to look after properly and storage is also a problem.
Mrs Evans was an avid collector and started amassing her extensive range of items, dating from 1880 and 1980, when she was aged eight.
She was especially attracted to women's clothes and accessories.
There are thousands of dresses, from ball gowns to mini-skirts, and hundreds of hats and pairs of shoes, jewellery, children's clothes, men's suits, Army uniforms, handbags, umbrellas, pieces of furniture and books.
Mrs Evans displayed some of the items in a room above the town's railway station for 20 years, and it was known locally as Aberystwyth Yesterday.
Ceredigion Museum said her collection illustrated the changing fashions during the late 19th and 20th centuries, and the changing roles of women in society which demanded simpler, more comfortable and practical forms of dress as women became more active in the workforce and public life.
When Mrs Evans died, aged 74, the collection was handed to Ceredigion Museum, which was asked to help with cleaning and documenting it.
It was formally bequeathed to the museum two years ago when Mrs Evans's husband, Tom, died.
But with storage becoming a problem, Ceredigion Museum has decided to break up the collection and give some of it away.
It has received £10,000 from the Esmée Fairbairn Foundation to help review its collections.
Museum curator Michael Freeman said: "There's loads of potential for community use.
"Some of Margaret Evans's collection, which we decide not to retain in the permanent collection, will be retained here for use with schools and community groups including reminiscence therapy groups for elderly people.
"The beauty of this project is that it will allow clothes to be handled and used again - something that can't usually happen with normal museum collections as costume is so fragile and easily damaged."
Part of the collection, including dresses from the 1920s, is going to the National Trust property in Llanerchaeron, near Aberaeron.
Mr Freeman said other items were going to Theatr Felinfach near Lampeter, Swansea Museum and the National Museums and Galleries of Wales in Cardiff, including St Fagans: National History Museum.
"The bequest has huge meaning to the people of Aberystwyth, many of whom remember it being displayed locally, but there are several problems with it," Mr Freeman said.
"The collection is too large to allow us to keep all of it, it contains many duplicates and some of the items are in poor condition.
"We're lucky that the storage costs for the collection so far has been low, but that is likely to change."
Paddy Tranter, the National Trust's house steward at Llanerchaeron, said he was delighted and grateful to receive part of the collection.
'Great significance'
"We were amazed at the amount of material that was there and on offer," he said.
"We came away with a collection of 1920s costume pieces, which we intend to use for dressing rooms, dressing volunteers for special events like our Christmas Fair and so on.
"We also have extra pieces for children and school groups to dress up in.
"We think this collection has great significance locally for us and it fits in very well with the relevance of Llanerchaeron and allows visitors to have a hands-on interaction with the past, which is what we are trying to achieve as part of our quest to bring properties to life."
It is hoped that part of the collection will also be used in "design and manufacturing techniques" classes at universities and colleges.
Cardiff dress designer Fflur Edwards, who has studied vintage clothes and seen part of Mrs Evans's collection, said she was surprised by the quality of the garments.
She said some of the Victorian era pieces on display were making a comeback.
"The high necklines on blouses are coming back along with ankle-length skirts, which have been popular this summer," she said.