Swansea author in Jack the Ripper knife photo claims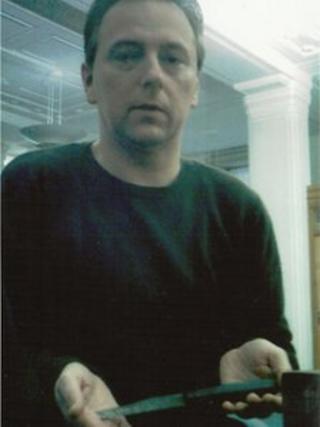 An author who claims a distant ancestor was Jack the Ripper has published a photograph of a knife he says was used in the notorious killings.
Tony Williams, from Swansea, found the black-handled six-inch (15cm) blade among the possessions of Sir John Williams, Queen Victoria's surgeon and founder of the National Library of Wales in Aberystwyth.
There has been much speculation as to the identity of the killer, who murdered five prostitutes in London's East End between August and November 1888.
It has been suggested that the murderer was a doctor or a butcher, based on the evidence of weapons and the savage injuries suffered by the victims, which showed a knowledge of human anatomy.
Mr Williams believes his great-great-great-great uncle, Sir John, was the Ripper.
He said he unearthed evidence linking the unsolved murders to Sir John while researching his family tree a few years ago.
He subsequently published his claims in a book, Uncle Jack, in 2005.
In a new edition, Uncle Jack - A Victorian Mystery, Mr Williams reveals a photograph of a knife which he alleges was used by Sir John to kill the women, and he says it matches a description of the Ripper's knife.
It is thought Sir John used the knife for his operations.
Mr Williams found the knife in a box of Sir John's personal possessions at the National Library of Wales a few years ago, but the knife was photographed about nine months ago when he made a return visit.
More than 200 suspects have been named in connection with the ripper murders, but Mr Williams is convinced of his relation's guilt.
"When Sir John died in 1926 he left items to the National Library of Wales, including some of his personal belongings," he said.
"I went to the national library to view these items. This wooden box arrived and inside was this knife and three glass slides."
Mr Williams claims the slides have recently been examined by a pathologist and contained smears of a uterus, adding that two of the Ripper's victims had their uteruses removed.
He said Sir John might have been driven to commit murder in the name of medical research, because his wife could not have children.
"I know that one of his biggest regrets was not having children," Mr Williams said.
Mr Williams would like the knife forensically tested, but he has not asked the national library for permission.
He added: "This knife fits the description of the murder weapon. The slides fit with this because he was very interested in that side of medical research because his wife could not have children.
"Why keep the knife and the smears in the box and give them to the national library? I don't know why he did this.
"Perhaps he hoped people would one day fit the jigsaw together when they saw the knife and the slides. He was a very, very intelligent man."
He added that Sir John was an accomplished surgeon, held surgeries all over London at the time of the murders and also had links to Whitechapel where the crimes were committed.
"Dr Thomas Bond, a pathologist who examined the body of Mary Kelly (one of the Ripper's victims), said the same six inch knife had been used in all the Ripper's murders," Mr Williams said.
"He said it would have been about six inches long, very sharp, pointed at the top and about an inch in width. This fits the description of a surgeon's knife."
Mr Williams claimed Sir John's diaries and medical notes revealed that he knew all five of the Ripper's victims and had treated them.
"Sir John was in the masons and was Queen Victoria's surgeon," he said.
"He knew he was above suspicion and in a position where he would not have been questioned."
Sir John was born in Gwynfe, Carmarthenshire, in 1840. His connection with the royal family started in 1886, and he was raised to the baronetcy by Queen Victoria for his work in 1894.
The National Library of Wales has previously dismissed Mr Williams's allegations and has said it is proud of what Sir John, the library's first president, achieved.