Aberystwyth Remembrance Sunday parade death tributes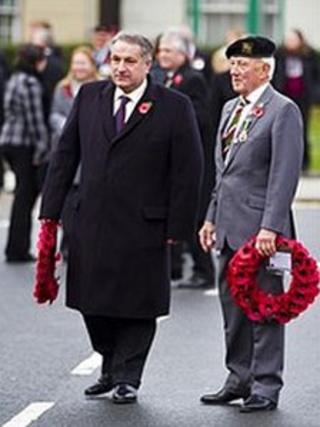 Tributes have been paid to a poppy appeal organiser who died during a Remembrance Sunday parade in Aberystwyth.
Nigel Dyer, 80, collapsed as more than 100 people marched to the town's cenotaph to lay wreaths.
Iori Lewis, Royal British Legion president in Aberystwyth, described Mr Dyer as a "jewel of a man", who would do "anything for anybody".
It is believed Mr Dyer, from Aberystwyth, suffered a heart attack.
Mr Dyer, who was the poppy appeal co-ordinator for Ceredigion, was originally from Penarth in the Vale of Glamorgan.
He served as a captain in the South Wales Borderers' territorial unit and worked for fuel company Shell for 33 years.
Mr Lewis, who knew Mr Dyer for 61 years and was one of his oldest friends, said he was irreplaceable.
'Wonderful chap'
"He was a wonderful chap, no question about it," said Mr Lewis.
"First of all he was a gentleman. He also had a great sense of humour. He's simply irreplaceable."
Mr Lewis said his friend was also a former chairman and president of Aberystwyth Rugby Club.
"He received the medal of Territorial Decoration for his service to the TA," added Mr Lewis.
"He was a jewel of a man, a very caring person who would do anything for anybody."
Secretary and treasurer of the Royal British Legion in Aberystwyth, Gareth Hughes, said Mr Dyer was "very committed" to the poppy appeal.
Tributes will be paid to Mr Dyer at the Aberystwyth branch annual meeting on Thursday night.