Powys council approves secondary school shake-up plan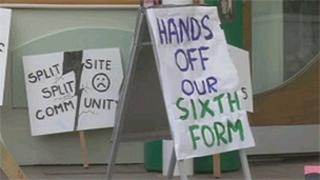 A shake-up of secondary education in Powys has been approved by councillors.
All 13 secondary schools will stay open and no sixth forms will close, but they will be expected to forge closer links and work together.
Councillors also ignored advice to scrap Welsh-medium education at Llanidloes High School at a cabinet meeting on Tuesday.
There now will be a two-month feedback period.
The schools modernisation programme is intended to improve education standards, the council has said.
Its plans for secondary schools were originally revealed in a leaked report in January 2010.
One option was to shut six secondary schools and strip them of their sixth forms.
The plans provoked anger in communities throughout Powys and actions groups were formed and public meetings held, while campaigns started on the social networking site Facebook.
Provoked anger
However, over the months the council's plans have evolved and more details were revealed at a briefing two weeks ago.
Powys council said it wanted its 13 high schools to form closer relationships and work together.
The authority said that instead of closures, schools would be placed in "families" and be expected to co-operate more closely with other "family members".
There is no provision for a Welsh-medium secondary school under the plans, but Welsh language education will be enhanced in some schools, the council said.
In particular, the local authority will concentrate the delivery of post-16 Welsh-medium education at three schools in Builth Wells, Llanfair Caereinion and Machynlleth.
They would also provide Welsh-medium teaching for 11 to 16-year-olds at Llanfyllin and Brecon.