Llanina Arms Hotel told to breathalyse underage drinkers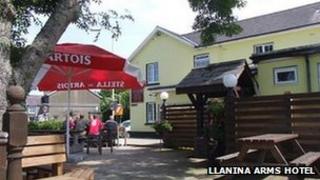 A village pub in Ceredigion has been banned from holding children's parties and issued with a breathalyser after problems with underage drinking.
Police said youths had been found drunk on the road outside the Llanina Arms Hotel, at Llanarth, near New Quay.
New licensing conditions have been imposed, and the owner will have to breathalyse children he suspects have been drinking alcohol.
Landlord Delme Lloyd said the children's parties had got out of hand.
Drunk on arrival
Dyfed-Powys Police said they had responded to "community concerns" in Llanarth by imposing conditions on the hotel at a licensing panel on 22 November.
It is thought the pub is one of the first in the UK to be imposed with the new licensing conditions.
Mr Lloyd said was working with the force to solve the problems.
He said he would have to test all under 18s entering the premises with a police-approved breath testing device if he suspected they had been drinking.
Anyone found to have consumed alcohol will be refused entry.
Mr Lloyd said: "The children's parties started two or three years ago, but they started getting out of hand and ended in May or June.
"They were for children aged 16 and above. I didn't serve alcohol at these parties, but they were turning up having already consumed alcohol.
"The new conditions mean I will have to breathalyse underage drinkers I suspect of drinking alcohol and then inform the police."
Road hazard
Dyfed-Powys Police said in the summer officers had found drunken youths outside the premises lying on the main A487.
Ambulances were often called to treat the youths, in addition to the problems of noise and disturbance.
Officers said a raft of conditions were added to the hotel's licence to protect children.
As well as breathalysing children entering the hotel, children must be accompanied by an adult and the ratio of children to adults has to be no less than one adult to four children.
Children will only be allowed in the hotel if they are having a meal in the restaurant, attending an private pre-booked function or if they are staying at the hotel.
CCTV to the force's specification is also to be installed inside and outside the premises within three months.
Ch Insp Robyn Mason of Dyfed-Powys Police said: "Thanks to the determination of our officers we have now removed the premises' ability to hold youth discos, which were largely the root of the problem."
He said evidence from Aberaeron and Cardigan police officers resulted in the case ending successfully.
"In addition to sending out a clear message to license premises who attempt to fall out of line, this challenging episode is an excellent example of efficient and effective neighbourhood policing," he added.