Third guilty of robbing security guard in Machynlleth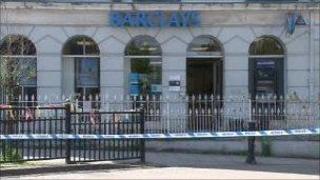 A third man has admitted robbing a security guard carrying £13,000 in cash from a bank in Machynlleth, Powys.
Robert Court, 23, from Solihull, west Midlands, was remanded in custody after his plea last Friday.
Mark Ricardo Lawlor, 26, from Solihull, and Micquel Daniel France, 24, from the Birmingham area, had previously pleaded guilty. They will be sentenced later.
All three took part in the robbery outside Barclays on 19 May, Mold Crown Court heard.
Judge Rhys Rowlands was told Court had also pleaded guilty to a separate robbery and was awaiting sentence at Stoke Crown Court.
Lawlor and France's sentencing had been delayed in order for the case of Court to be dealt with simultaneously.
Getaway driver
The court heard that France was a serving prisoner on day release from Sudbury prison when the robbery took place.
He was collected from the prison, and he and Lawlor robbed the guard after pushing him to the floor, while Court was said to have been the getaway driver.
France and Lawlor were arrested a short time later, and the money was recovered.
The court was told France had received a 12-year sentence for attempted murder in 2006, and Lawlor had received a 12-year sentence in 2004 for robbery and possession of a firearm when a security officer was attacked outside a west Midlands supermarket.
Judge Rowlands said the issue of dangerousness would have to be considered when they came to be sentenced.