Aberystwyth student flats plans rejected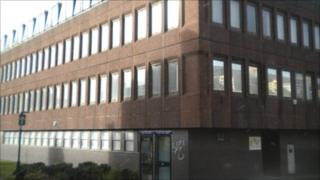 Controversial plans to turn an ex-passport office in Aberystwyth into 51 student bedrooms have been rejected.
Tai Cantref housing association proposed converting the four-storey building, which was also an office for the Department for Work and Pensions.
Some town councillors and residents had claimed there was a lack of parking in the area and feared noise from students would be a problem.
The scheme had been backed by Ceredigion council planning officers.
A lack of student accommodation in Aberystwyth has been an issue in recent years, with some university students housed in guest houses and hotels.
Tai Cantref said in October that it was responding to these problems.
But Ceredigion council said student accommodation "should primarily be met on campus or sites identified for such provision in the proposed local development plan".
The offices in Northgate Street, known as Crown Buildings, have been vacant since the passport office closed in August.