Dyfed-Powys Police escort for security vans after raids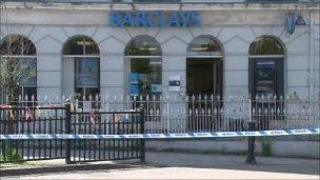 Security vans are to receive a police escort over the festive period following three robberies in Powys in a year.
Dyfed-Powys Police said they had been targeted by gangs in the past, and this was an attempt to deter criminals.
It follows the the robbery of a security guard outside Barclays in Machynlleth in May, and a security van at a Tesco in Welshpool in June.
Patrol cars will follow the vans as they enter the force area.
Three people from the West Midlands have admitted robbing the security guard of £13,000 and are expected to be sentenced next month.
Five people were arrested in connection with the Welshpool raid after a quantity of cash was taken from a vehicle belonging to security firm G4S.
The five are on bail pending further inquiries.
Meanwhile, police are still hunting for the men who robbed security staff delivering money to a branch of Nationwide, in Newtown, in December last year.
"Although they are extremely rare, we know that in previous years we have been a target for groups of people who carry out these offences," said Det Ch Supt Steve Wilkins.
"The initiative is designed to deter potential criminals from attacking these vehicles.
"We want to send a clear message to people that if you try to commit this type of crime in Dyfed-Powys there is a real possibility that you will be caught.
"We would like to reassure the public that they should not be concerned if they see police vehicles escorting security staff in their vehicles."
People with any information about criminals linked to cash-in-transit robberies are urged to contact Dyfed-Powys Police on 101 or anonymously to the independent charity Crimestoppers on 0800 555 111.